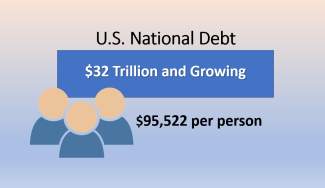 NATIONAL DEBT INCREASES BY 1 TRILLLION IN JUST 33 DAYS
CAN'T SPEND IT FAST ENOUGH (By: Mick Higley reprinted with permission)
On the day President Joe Biden signed the legislation that ended the debt ceiling debate (Saturday 6/03/2023), the US national debt was $31.467 trillion.  On Thursday 7/06/2023 (just 33 days later), the US national debt reached $32.474 trillion, i.e., the national debt increased $1 trillion in 33 days.  From our nation's inception (using 7/04/1776 as our start date), the US national debt did not reach $1 trillion for more than 205 years (until 10/22/1981) (source: Treasury.gov).
 Sources:
https://fiscaldata.treasury.gov/datasets/debt-to-the-penny/debt-to-the-penny
https://www.politico.com/story/2017/10/22/us-national-debt-tops-1-trillion-oct-22-1981-243966
I understand there was a pent-up supply of US government debt ready to be issued after the previous debt ceiling limit was reached on 1/19/2023, but an increase in our national debt of another trillion dollars in just over a month is staggering.