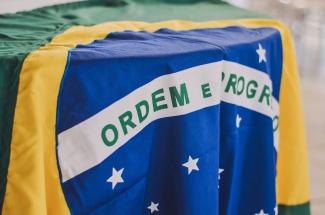 Brazil: Turbulent Past, Future Unknown
Brazil is a resource rich nation with an estimated $21.8 trillion of resources as of 2021 (Garside). The country's resources play a significant role in it being one of the largest economies in the world, the 11th largest by GDP in 2022, according to the World Bank. Yet, the South American powerhouse perhaps remains best known for football, samba, and Carnaval.  This is due to its relative inability to play a major role on the global stage, which could largely be due to its geography. For the sake of thinking about its economic structure, Brazil can be split into multiple island economies. It is rather difficult and expensive to transport much of its resources within its own borders due to obstacles such as the Amazon and mountains, never mind exporting them to other areas of the world. Establishing robust infrastructure that could improve transportation is challenging, costly, and, in some areas, impossible. However, due to its sheer number of resources, Brazil has had much success relative to other developing nations as far as total exports is concerned, behind China and India and around the same as Russia and Mexico.
Brazil's journey to the upper levels of economic strength has had its fair share of ups and downs, including that of the "Brazilian miracle" in the early 1970s, the "lost decade" in the 1980s, rapid expansion in the early part of the 21st century, and then being hit by the "great Brazilian recession" in 2014.  Brazil has essentially experienced another "lost decade" over the past 10 or so years, but, although currently locked in the middle-income trap, there are some signs of positivity for the largest economy in Latin America.  
Notably, inflation has decreased to 3.99% from over 12% last year, although it is above the target the government had set for 2023 after increasing from June's 3.16%. The significant improvement is largely due to the central bank holding the benchmark rate at 13.75% from September 2022 to August 2023 in hope of stomping out inflation. On August 2, 2023, the Brazilian central bank decided to cut interest rates by 50 basis points, higher than the 25 basis points expectation that the majority of economists felt was coming. Sentiment seems to point towards heavier cuts early to frontload the cut cycle. This was emphasized on August 28 when the central bank chief, Roberto Campos Neto, spoke at Warren Institutional Day, hosted by Warren Investimentos. Neto stated that cuts amounting to 50 basis points per meeting could be expected unless there is a surprise. The next meeting is September 19-20.
Prior to the first rate cut, hedge funds and firms had already been buying Brazil stocks and they have moved up rapidly throughout 2023. The iShares MSCI Brazil ETF (Ticker EWZ) is up around 21% year to date as of writing, and the larger than expected cuts will likely add to the Brazilian market optimism that has come to fruition since President Luiz Inácio Lula da Silva has reentered office.   
Lula, as President Luiz Inácio Lula da Silva is affectionately known, has been pressuring the central bank to cut rates in order to create an environment more conducive to his plan of creating strong growth. The Brazilian people have been starting to lose trust in the central bank as an institution, even with superb results in the battle against inflation. The central bank governorship is up for replacement in December of 2024, and having been selected by the previous president, Jair Bolsonaro, the current central bank governor, Roberto Campos Neto, may be susceptible to political pressure to enhance his prospects of remaining in the role for the long term. 
Beyond the central bank, there are issues with other institutions and corporations. Recently, petrochemical behemoth Braskem settled with the city of Maceio after four decades of salt rock mining had displaced tens of thousands of people and destroyed entire neighborhoods (Hughes). Braskem has also been linked to corruption, with its former CEO, Jose Carlos Grubisich, having funneled $250 million to a fund that was used to bribe Brazilian government officials (Stempel). The scandals of Braskem alone would be rather alarming, but one of the owners of Braskem, Odebrecht (Now known as Novonor), is not exactly innocent either. Far from it. The widely known Odebrecht case, linked to the later mentioned Operation Car Wash, is one of the largest corruption and bribery scandals in the history of Latin America. Brazilian construction company Odebrecht paid government officials across Latin America and Africa, including numerous presidents, billions of dollars to attain contracts for projects. This spanned far beyond Brazil, into 12 countries including Argentina, Mexico, Angola, and Mozambique.
Rather ironically, Odebrecht built the headquarters of Petrobras, Brazil's state-owned petro giant, in the late 1960s and early 1970s.  This is made more ironic when one learns that since 2007, Braskem has been largely owned by Petrobras, whose stake is second only to Odebrecht's share of the company. The fact that Petrobras owns a large stake in Braskem means that Brazilian government officials were not just being bribed by Braskem, but they were being bribed by a company that is one third owned by a state-owned firm. Having a large stake in Braskem is not the only connection to corruption that Petrobras has. Operation Car Wash began in 2014 as an investigation into money laundering but later developed into a corruption investigation. As investigators uncovered evidence after receiving a tip detailing potential money laundering, they were led to Petrobras where they found decades of laundering, embezzlement, and bribery. Billions of dollars were involved, and taxpayers were defrauded in the process. The money would often end up paying for election campaigns to keep those who helped Petrobras in power.
Presidents and former presidents were implicated by Operation Car Wash, and, in 2016, Dilma Rousseff was impeached 12 months into her second term as president partially due to her connection to the scandal. Former President Fernando Collor de Mello, Rousseff's Vice President and replacement as president, Michel Temer, and the then former, now current president, Lula, were also linked to the corruption. Operation Car Wash found that politicians from across the political spectrum were involved and the investigation portrayed Brazil as a nation where it was only possible to be successful in politics with high sums of money that often had to be sourced via illegal methods. It has, therefore, long been commonplace for high-ranking politicians to name executives who align with their political beliefs to powerful positions at state-owned firms.
In March of this year, the New Development Bank (BRICS Development Bank), announced that Dilma Rousseff was to assume its presidency for the remainder of Brazil's five-year rotating leadership term (2020-2025). The board of governors unanimously elected her as the replacement for Marcos Troyjo, a member of Jair Bolsonaro's government. Appointing Rousseff to this position allows Lula to give his ally an important role without worrying about an inflammatory election battle that could leave Lula and his allies vulnerable to further criticism (Silva). This move also serves to help Lula achieve his goal of injecting cash into the economy, which seemed otherwise unlikely when he assumed power given constraints that banks in Brazil are facing. Since its first loan agreement with Brazil in April of 2017, the NDB has loaned over $7 billion to Brazil, around $6.8 billion of that being denominated in USD ("NDB - Projects").
Complexity is a common theme in Brazil when considering both the current economic and political environments. Former President Jair Bolsonaro was recently banned from running for political office until 2030 for abuse of power while president.  Bolsonaro is also the subject of multiple criminal investigations, and this could be the end of his career as an elected politician. Lula, himself, was previously in prison for accepting bribes from contractors during his previous two terms as president, which spanned from 2003 to 2010. This prevented him from running in 2018, although his convictions were later annulled which allowed him to run, and subsequently be reelected, in 2022.  None of this is particularly great for Brazil's long-term outlook, as the country must continue to fight corruption, political instability, and growing distrust in institutions. The potential for growth is, however, immense.
One route that Lula wants to travel is that of reindustrialization, much to the dismay of economists. While reindustrialization is itself questionable, Brazil is making inroads within the auto (specifically electric and hybrid vehicles) and tech industries which could help bolster the economy in the future. As far as the auto industry is concerned, China has invested significantly in factories located in Brazil. Many of the factories that Chinese auto manufacturers are utilizing were once used by American manufacturers such as Ford. Notably, the largest electric vehicle manufacturer in the world, BYD, announced in July that they will invest $600 million to produce electric and hybrid vehicles. This comes after last year when Great Wall Motor committed to investing $1.9 billion over the next decade, also intending to produce hybrid and electric vehicles (Cowie). The Chinese manufacturers entering Brazil are better suited for the Brazilian consumer due to their cheaper offerings relative to their Western counterparts. As well as creating jobs, these moves are introducing new technology to Brazil, a potential boon.
While Brazil has much promise, its geographic and political struggles have persisted for decades and today the country is stuck in the middle-income trap. Breakthroughs could be made in the future, but it is difficult to believe that Brazil has turned the page considering numerous and recent cases of corruption and abuse of power as well as the growing distrust in institutions.
Stay tuned for more commentary on Brazil and the rest of the world, including the recent BRICS summit.
Works Cited
Cowie, Sam. "China Makes a Big Bet on Electric Vehicles with Brazil Investment." Al Jazeera, 20 July 2023, https://www.aljazeera.com/news/2023/7/20/china-makes-a-big-bet-on-electric-vehicles-with-brazil-investment.
Garside, M. "Natural Resource Value: Ranking by Country 2021." Statista, 2 Aug. 2022, https://www.statista.com/statistics/748223/leading-countries-based-on-natural-resource-value/.
"GDP (Current US$) | Data." World Bank Open Data, World Bank, https://data.worldbank.org/indicator/NY.GDP.MKTP.CD?most_recent_value_desc=true. Accessed 29 Aug. 2023.
Hughes, Eléonore. "Brazilian Petrochemical Company Settles with City Where Mining Destroyed Entire Neighborhoods." AP News, 21 July 2023, https://apnews.com/article/brazil-braskem-salt-mining-neighborhoods-befbc86ce6bc1ccdb88bb584a0466049
"NDB - Projects." New Development Bank, https://www.ndb.int/projects/all-projects/?country=brazil&key_area_focus&project_status&type_category&pyearval#038;key_area_focus&project_status&type_category&pyearval#paginated-list. Accessed 29 Aug. 2023.
Silva, Cedê. "Dilma Rousseff Elected to Lead BRICS Bank." The Brazilian Report, 24 Mar. 2023, https://brazilian.report/liveblog/2023/03/24/dilma-rousseff-brics-bank-2/.
Stempel, Jonathan. "UPDATE 2-Former CEO of Brazil's Braskem Pleads Guilty in U.S. Bribery Case." U.S., Reuters, 15 Apr. 2021, https://www.reuters.com/article/braskem-ceo-plea/update-2-former-ceo-of-brazils-braskem-pleads-guilty-in-u-s-bribery-case-idUSL1N2M827G.
"Warren Institutional Day | Painel Com Roberto Campos Neto, Presidente Do Banco Central." YouTube, Warren Investimentos, 29 Aug. 2023, https://www.youtube.com/watch?v=JdSxcRvXCds.